P & R Technologies
Power Line Monitoring and Marking
We are excited to Announce SentriSense slashes cost to monitor power lines 24/7. Learn more
SentriSense™

Power Line Monitoring Network
SentriSense sensor nodes attach directly to live lines and provide real-time monitoring of line and weather conditions, detecting and warning of line failures across the network. Automated collection of SentriSense data is provided via a secure cloud system and an open API for integration with third party systems. This line monitoring solution typically costs 90% less than alternatives and detects problems 90% faster.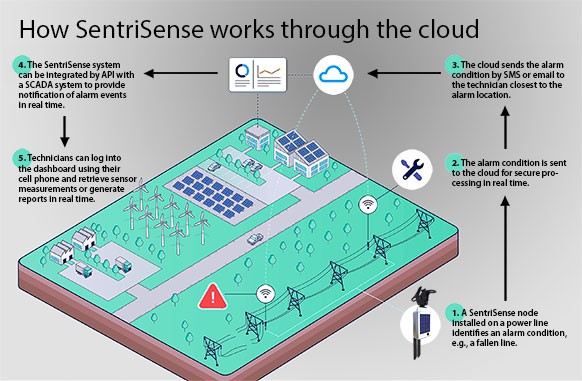 Solar FAA Obstruction Lights
In remote areas, where 110V or 220V is not available except at extremely high cost, solar powered FAA & ICAO obstruction lights have become the preferred and often necessary solution for marking utility transmission towers, telecom towers, wind farm testing, airports, and other tall structures. Tapping into solar energy is simpler and greener, saves money, and keeps lights off grid.
SunPOWR obstruction lights from P&R Tech meet or exceed the specifications of the 2008 FAA Bulletin on Solar Power Obstruction Lighting. Each solar powered system must be sized and designed for the specific installation and geographic location, so be sure to contact us for a sizing analysis and quotation when you begin your next project.
Leave your contact information in the form on the right side of this page.
Keywords
Power Line MonitoringPower Line MarkingBird DivertersSolar FAA LightsLow Line Markers